Choose your ticket paying less!
El Práctico
We are a team that works day by day to meet the needs of our customers. Trajectory, service, quality and excellence are the conditions which characterize us. We are backed by the support of more than 20 years in the passenger transport market. Based in the center area of Argentina, we have an advanced infrastructure to maintain our units in perfect conditions.
Our modern fleet is made up of 50 bus units with an average age of 2 years, and we are proud to be the first company in the Province of Córdoba that works with the preventive maintenance system of the same, which guarantees the perfect state of the units.
Currently we have added to the Cordoba Bus Terminal, our points of sale in each location that our cars travel, with our human staff trained to provide the best care.
The incorporation of new technologies and the constant training of our personnel in matters of safety and service, guarantees a continuous improvement in our performance. We have made a difference through a special emphasis on the adequacy of human resources, the comfort of our units, the quality of catering and the hygiene of the bus. Customer satisfaction is our premise. Our history continues to be written every day, with the contribution of all those who are part of the company and those customers who continue to choose us to make all of their trips.
---
Services / Classes
Comfortable and cosy leather seats
A reclining angle of 180º
Feet support with a reclining angle of 180º
Privacy curtain available
Blankets and pillows provided
Menu to choose: meat, vegetables or chicken
Surround sound system available
Air-conditioning and heating
MP3 and DVD players
Type of service:
Su: 1st class suite service class

Leather / cloth seats
A reclining angle of 150º
Feet support
Breakfast
Blankets and pillows provided
Air-conditioning and heating
MP3 and DVD players
Extra wide bus seat
Type of service:
Ej: with on-board meal

Leather / cloth seats
A reclining angle of 120º
Feet support
Air-conditioning and heating
Music and video players
Type of service:
Sc: without on board meal
---
Destinations and routes covered by El Práctico: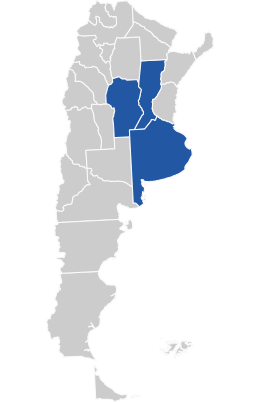 The most popular destinations and routes of the company are: 1- Departing from Buenos Aires: Cordoba, Cosquin, La Falda, La Cumbre and Villa María. 2- Departing from Corrientes: Reconquista (Santa Fe), Carlos Paz, San Francisco, San Justo and Vera. 3- Departing from Santa Fe: Córdoba, Carlos Paz, Cosquín, Santiago del Estero, Termas (Hot Springs) de Rio Hondo and Tucumán.
---