Choose your ticket paying less!
Tramat
More than 50% of the Tramat were incorporated in 2006, most of the fleet has a 53 passenger capacity. Both the mechanics and the chassis are Volvo, which guarantees the safety that their customers require. The new units feature state-of-the-art S-CAM brakes with ABS and electronic suspension (ECS).
To ensure an adequate service, each unit is equipped with DVD players and 4 flat-panel Sony high definition screens, with stereo sound also available. The buses also have a minibar and a chemical bath on board.
In addition to this, Tramat stands out due, more than anything, to its extensive covering of Argentina. It is one of the only long distance bus companies in which Santa Cruz, and Chubut are among their provided destinations. But not only that, the routes that the company covers, also includes Formosa and Jujuy (in the northeast part of Argentina), among many other provinces in Argentina. The company basically covers the entire country.
---
Services / Classes
Leather / cloth seats
A reclining angle of 150º
Feet support
Breakfast
Blankets and pillows provided
Air-conditioning and heating
MP3 and DVD players
Extra wide bus seat
Type of service:
Ej: with on board meal
Ex: without on board meal

Leather / cloth seats
A reclining angle of 120º
Feet support
Air-conditioning and heating
Music and video players
Type of service:
Sj: with on-board meal service
Sc: without on board meal
---
Destinations and routes covered by Tramat: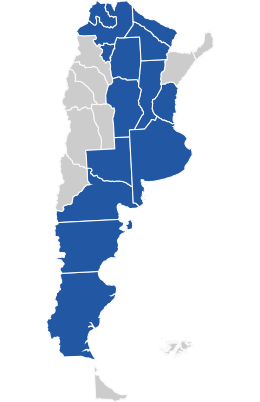 In the case of Tramat, it could be said that the company provides complete coverage of the country, from north to south. The company provides services in the following provinces: Buenos Aires, La Pampa, San Luis, Mendoza, Cordoba, Santa Fe, Entre Ríos, Santiago del Estero, Tucumán, Jujuy, Formosa, Salta, Corrientes, Neuquén, Río Negro, Chubut and Santa Cruz.
The company provides services in: Bahía Blanca, Pehuajó, Junín, Guamini, Macachín Guatraché, Santa Isabel, Catriel, Las Catitas, Tunuyán, Rivadavia, General Alvear, Malargüe, San Rafael, Merlo, Villa Mercedes, Carlos Paz, San Francisco, Villa Maria, Rio Cuarto, V. Mackenna, Rosario, Paraná, Goya, Resistencia, Clorinda, San Miguel de Tucumán, Gral. Güemes, Chos Malál, Zapala, Cipolletti, Centenario, Bariloche, El Bolsón, , Esquel, Tecka, Puerto Madrin, Trelew, Rawson, Sarmiento, Comodoro Rivadavia, Caleta Olivia, Puerto San Julián, Luis Piedra Buena, Puerto Santa Cruz and Río Gallegos.
---